LiteSpeed Cache for WordPress – Why cache is so important in WordPress Speed Improvements
What is Cache and why does it matter?
In the fast moving and constantly improving world wide web, websites are always striving to deliver the most relevant and exciting content. That content takes many forms: text, images, videos, etc and is constantly increasing in size due to higher audio/video quality. Every day millions of website visits, blog and email signups, e-commerce conversions and online orders die in their infancy due to slow loading sites. In this day and age, end users simply do not have the attention span or patience to wait for sites to load. It's not just a question of your target audience finding your site on search engines, your content MUST be delivered lightning fast for your site to remain competitive.
Enter caching (pronounced cash-ing). Caching essentially means storing pages of your choosing at the server level and serving those from memory instead of creating them dynamically each time. Very much like having your most frequently used tools on a tool belt, rather than having to get them from the shop every time you need them.
This is where working with an experienced WordPress developer such as www.WebsitesSeller.com comes in. Not all caching is created equal and picking the best server and caching method is crucial to your website's success. We have worked with thousands of sites since the early 2000s and have been able to experientially identify which solution is the best one to adopt for optimal site performance. For us there is one clear winner – LiteSpeed Cache for WordPress by LiteSpeed Technologies
Who is LiteSpeed Technologies and why LiteSpeed Cache?
The company LiteSpeed Technologies (New Jersey, USA) was founded in 2002 by a team of engineers who specialize in server software design and have many years of experience in software development. Simply put, LiteSpeed Web Server gets more performance out of existing infrastructure and allows users to expand without the hurdle of new hardware (compatible with Apache, the world's most used web server software).
Using LiteSpeed Web Server in conjunction with LiteSpeed Cache is the ultimate WordPress hosting solution. LiteSpeed Cache for WordPress is the quickest and easiest way to super-charge any WordPress site. The graph below highlights a side by side comparison that says is all: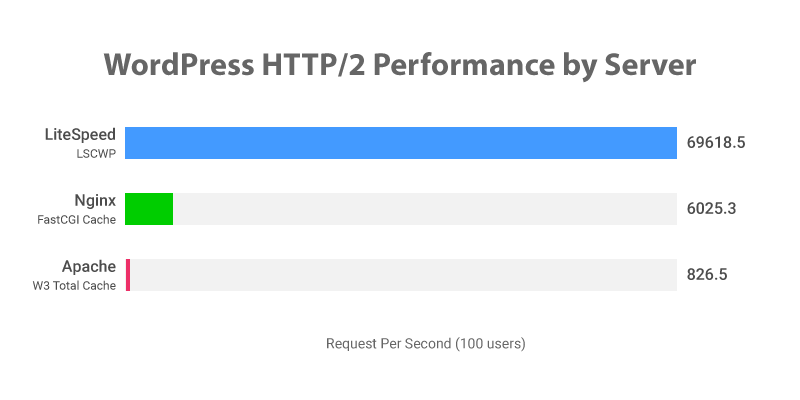 Not only is LS Cache substantially faster, it also offers a myriad of benefits such as:
ACCURACY: LiteSpeed Cache will always serve an up-to-date page.
EASE OF USE: Optimized to work with most WordPress installations out-of-box.
SPEED: Your site's content is served from the fast lane by caching at the web server level.
CUSTOMIZABILITY: Various options can be easily configured in the settings page.
COMPATIBILITY: LiteSpeed Cache is compatible with both single site and multisite installations as well as most major plugins.
How can Websites Seller help?
If you want to ensure that your visitors are able to enjoy your WordPress site and it's contents in a fast and frustration free manner, make sure to contact WebsitesSeller.com to discuss all your hosting, website redesign and website development needs. We constantly strive to bring you the best web infrastructure available to ensure your needs are met and your goals are reached.
Once you are part of the WebsitesSeller.com family, we take it a step further with our maintenance plans. One of the main benefits of our WordPress maintenance procedure, aside from keeping your WordPress site up to date and fixing errors and issues that may arise, is to frequently measure each site's performance to ensure end users have the very best and fastest experience with your website each and every time.